duration: 27'50 year: 2017

CD
ISWC: T-703.712.155.6

Charles-Edouard Platel, composer
Jacques Suzat, the painter, and Charles-Edouard Platel, the composer, both of them had in memory their own stories of the desert. One works with the sands and colors of the ochres of Provence, the other makes to listen to the footsteps noise on the path, the song of dunes, le blowing of the wind, the grains of sand sliding between fingers. Visual, tactile and auditive sensations mix themselves and invite to wander between mirages, dreams and silence.
This musical suite "Sands", played during Jacques Suzat's painting exhibitions, includes 7 parts: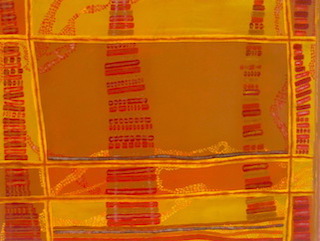 Chemins de sables (Jacques Suzat)
Chemins de sable (Sand paths, 2'23)
Chant des dunes (Song of dunes, 3'07)
Mer de sable (Sea of sand, 4'20)
Mirage (3'51)
Déserts (Deserts, 3'26)
Immensité (Immensity, 5'54)
Sur la piste (Along the track, 4'43)
Sound material: digital sound synthesis, concrete music.