The Charles-Edouard Platel's Imagimuse albums have the following statement: "Virtual Spatialization by Binaural Process". What does this sentence mean?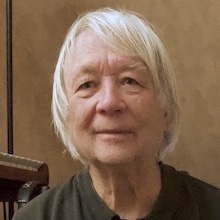 AUTHOR: Charles-Edouard Platel composer of electroacoustic music.
ABSTRACT: Virtual spatialization by binaural process uses the properties of human hearing for optimal stereophonic listening.
NOTE: This article does not deal with the binaural technique of psychic stimulation by oscillations close to the cervical waves (around 10Hz), thanks to a phenomenon of beating of acoustic frequencies perceived separately by the two ears.
Read this article (in French) :