Charles-Edouard Platel, French composer of electroacoustic music.

Born in Calais in 1946, he undertakes a scientific course of study at the University of Lille in 1963. That year, he was enthusiastic about a concert led by Pierre Schaeffer, bringing together the Musical Research Group and the Lasry-Baschet 's Sound Sculptures. The mind and ears thus opened up for research, experimentation and new ideas, he turned towards studies of general physics, then electronics. Later, a large part of his engineering experience will focus on the digital processing of acoustic signals.
A cooperating volunteer in Côte d' Ivoire in 1970-1971, he took advantage of this mission to record traditional African music in villages in the north of the country, especially balafon players. Passion was born and will continue to develop over the years.
After an training period at the Bourges Experimental Music Group, he built a personal electroacoustic studio and produced his first compositions. He uses analog and FM synthesizers, phonographic capture and practices the montage on a magnetic tape recorders bench. Then he acquires a configuration of audio and video production on computer.
From 1997, in order to capitalize on his self-learning and share it, he published on his personal website "Imaginary music, listening, analysing, creating, composing 21st century music", particularly identifying the connection between sound and visual perceptions.. Ten years later, in 2007, the book Imaginary Music was updated and published.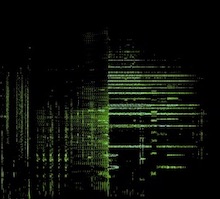 Since 2006, music represents his main creative activity. Today he is engaged in personal musical aesthetic projects and in association with other artists (painters, sculptors, photographers, plastic artists, choreographers). He uses digital audio tools that he appropriates or designs himself if necessary.
His production is made available in a catalogue of some forty works, on CD, DVD, streaming or download. During cultural events, he regularly offers the public dates for concerts and screnings, given in multiphonic spatiallized audio.
He is a member of the board of Hélium, a collective of artistic actions in the Chevreuse valley, near Paris.
righ-hand image: sonagram of "Sailing", a recent computer made music