duration: 13'45 year: 2007

MY ANCESTOR'S TOMTOM WAS HIT BY A LIGHTNING

Charles-Edouard Platel, composer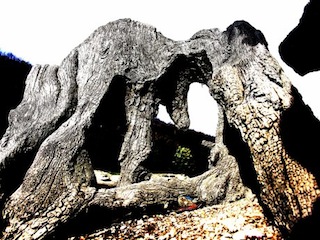 In an electrical atmosphere, rhythms and ambiances that mix percussions of the world, electronic effects and textures, meteorological sound effects (rain, tempest, thunderstorm) and celestial or primitive voices.
Anyway, this sound firework is led by a vintage jazz groove by an acoustic bass and a Fender piano.
Sound material: digital sound synthesis.
Stump in the bottom of the dryed out lake - photo C.Platel, Villefort 2006