duration: 24'19 or 16'25 year: 2012

CD
ISWC: T-702.956.106.8

Charles-Edouard Platel, composer
Sound textures to wander over the dream small town woven by Cécile Dachary.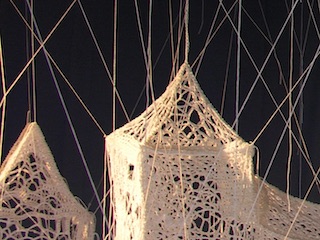 Scene 1- rumor: when approaching toward the town, the indistinct rumor progressively becomes more detailed, such as sounds of the street and of passers-by.
Scene 2 - inside the factory: a polyphony of machines in continuous or repetitive processes.
Scene 3 - at an inhabitant's: attracted by notes from a piano, we introduce into the home of a collector of sound objects.
Scene 4 - at the market: the stallholders' shouts, like choruses in the music.
Scene 5 - conviviality: around the bridge: cafés, restaurants and street musics.
Sound material: synthesizers, original sound captures by the author, Apple Logic sound bank.
Other remixed sound sources:
Aporee, project for an interactive world sound mapping: field recording of the Saintes market (credit: Martin Hogg), and of the place Denfert-Rochereau McDo (credit: François-Emmanuel Fodéré).
The brass band "The Onions" at the "6H du jazz 2012" festival: "On the sunny side of the street".
", C.E.Platel and Armando Ghidoni, 2010.
Intro of "Songs of Praise" (Cyril, Frank & Nicolas), radio show on Aligre FM 93.1 Paris.
"The Window of Dreams", C.E.Platel, 1984.
Coco Platel (barrel organ): "à la Bastille".
"Over the city" was played in a loop in public premiere at the Cécile Dachary's exhibition during the Hélium artistic course in the vallée de Cheveuse, in November 2012.
"Over the city, portrait of a dream small town" was played on the MOTUS acousmonium by Guillaume Contré at festival Futura 2013 in Crest.