duration: 37' year: 2021

CD
ISWC: T-307.149.344.8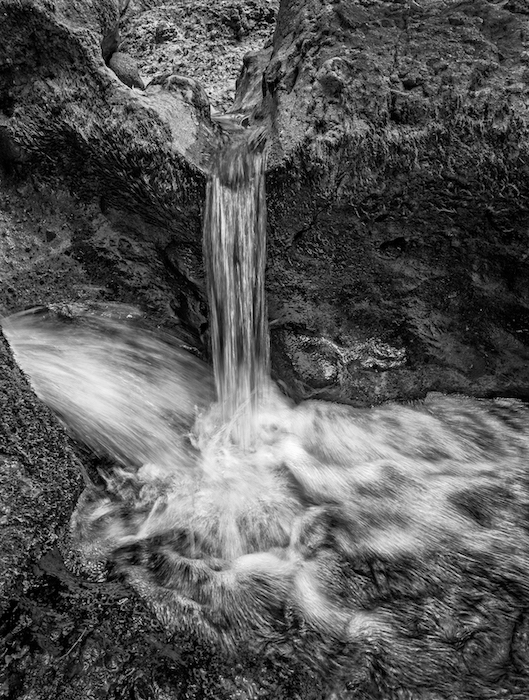 Meeting of waters, photo B.Sustrac
On the theme of water, the first intuition would be to listen again to piano pieces by French impressionist composers: Maurice Ravel, Claude Debussy.
The other musical source, which was not available to the Impressionists a hundred years ago, is to exploit electroacoustic recordings of concrete sounds produced by water in scenes of nature and life. These sounds could directly illustrate the photographs taken by Bernard Sustrac in nature. They virtually re-create convincing immersive acoustic ambiences for the listener, experiencing the intrinsic psychic virtues of the soothing, invigorating, even gripping sounds of water flow.
But rather than proposing a realistic virtual sound experience, the aim here is to take the listener into a dream of imaginary scenes, where selected, worked and orchestrated sound elements respond to each other. Thus the composition "I'eau" unfolds in five tableaux, expressing changes of sensation resulting from the variety of natures and dynamics of water, one of the four elements along with air, earth and fire.
1. Water from the sky and the earth (9'33)
2. Springs and waterfalls (8'40)
3. Abysses (4'35)
4. Reflections (4'53)
5. Sublimation (9'01)
Sound material: nature recordings, digital sound synthesis, musique concrète. Thanks
- to the photographer Bernard Sustrac whose exhibition "Au fil de l'eau" inspired this musical work,
- to the sound archive BBC Sound Effects, and to François Cuau for the discreet sounds of his sound sculptures.
The choregrapher Efi Farmaki created l'Ö", a solo performance from the parts 1, 3 and 5, interpreted: by Olivier Lamarche on the MOTUS acousmonium , as a part of the "En chair et en son" festival - November 23 2022, Théâtre Aleph, Ivry-sur-Seine. :