duration:19'50 year: 2009
"Youmonté" is the result of a project whose author was patiently waiting for the technical conditions favourable to its realization, to pay homage to the beauty of the music of the Lobi people. He had discovered this music in 1971, while on a cultural cooperation mission in West Africa, in villages around Bondoukou, Bouna, Doropo, Kalamou. Thanks to digital processes, his field recordings, made at the time by hook or by crook, could finally be highlighted in an electronic musical composition.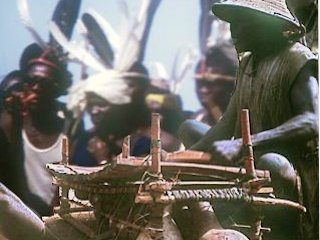 The songs of Lobis, accompanying the agricultural works and the religious rites, are supported by the "Youlon ", a specific xylophone (or balafon), made of 14 blades of the medium/low register, coupled with resonators equipped with thin vibratory membranes.
The pentatonic melodies, the incantations and the endless rhythms of trance of the Lobi musics can remind us accents and atmosphere of the free-jazz, which, these years in western countries, fascinated jazz lovers, enthusiastic or horrified.
"Youmonte" is not a collection of ethnic recordings, although its structure bases on some sequences got by the author on the field.
It is definitely an electronic work which addresses the imagination of the listener. It introduces him into the disturbing vastness of the bush, then invites him by the charm of songs to get involved in the peaceful activities of the village, before diving him in the paroxysm of an overexcited funeral night. If he recovers from this event, he will not escape to the still vague memories and to the appeal of the ghostly spirits.
Sound material: digital sound synthesis, vocoder, field recordings.
The Lobi people and neighboring:The first broadcasting was in May 2009 : "Funerals", part 4 of the suite "Youmonte", in the "Electromania" program, produced by the INA-GRM on France Musique radio.
The premiere in concert of the suite "Youmonté" was at festival Futura 2010 in Crest, played on the MOTUS acousmonium by Olivier Lamarche.

In a Lobi villagei (photo CEP, 1971)